Traditional Thai Therapies
Traditional Thai Massage
Nuad Thai (เชลยศักด - in Thai, pronounced "Chaloeysak") is a combination of energetic and physical therapy in which you can experience deep body release and invigoration of the whole body and spirit at the same time. Thai Massage resembles applied Yoga as it comprises a progressive series of flowing exercise movements. As the receiver's body is moved, the muscles and joints are loosened and stretched. Treatment incorporates acupressure too, which stimulates the flow of life energy (ลม - in Thai, pronounced "Lom") along the main energy pathways (เส้น - in Thai, pronounced "Sen") and points of the body. The result is revitalising for mind, body, and spirit - a definite visceral feeling of well being. The treatment can be robust and is very thorough, enabling energetic and physical release at a very deep level. Some people call Thai Massage "Lazy Person's Yoga", because you get most of the benefits of Yoga without any effort. In Thailand Thai Massage is used far more commonly for its therapeutic benefits and preventative uses than it is here in Germany.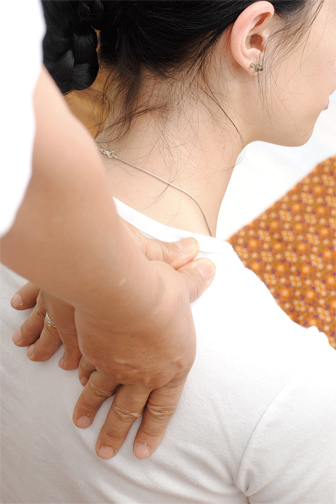 Thai Herbal Massage
A hot herbal compress (Luuk Prakrob) applied to the body is an ideal way to relieve muscular stress and reduce inflammation. Blended from Thai herbs, our hot compresses provide the ultimate in muscular and mental relaxation. You will be relaxed by the warmth and fragrance, and nourished by the vitamins and minerals infused into the body. This therapy gently warms the body, so it is expecially beneficial during cold, damp weather.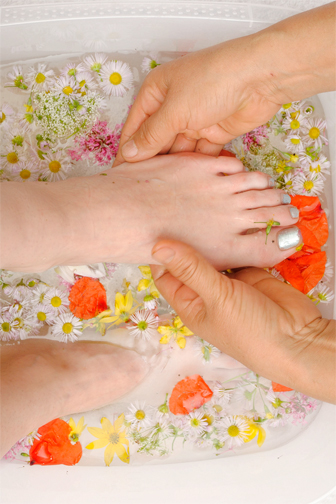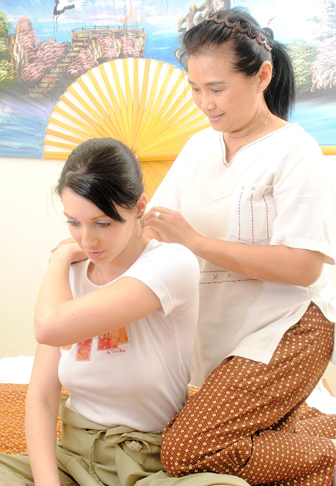 Thai Acupressure
This traditional Thai form of acupressure (ราชสำนัก - in Thai, pronounced "Ratchasamnak") was initially developed for the Thai Royal Family: it is very specific and effective. No oil is used, the client remains fully clothed. I learned how to apply this therapy while working as assistant to Adjaan Suwan, one of the most respected practitioners of Royal Style Thai Massage in Thailand. As it is designed for the Royal family there is no stretching, and no face down position. There are many applications for this very specific and effective therapy, please ask.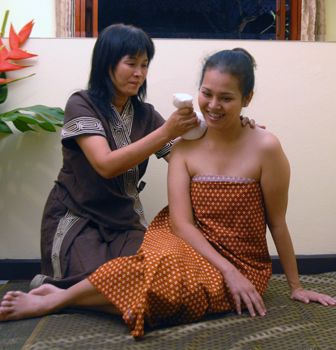 Thai Foot Massage
This is the Thai version of foot reflexology, but with attitude. Treatment extends up the lower leg, and uses Thai reflexology points in the foot and lower leg, yet can energetically stimulate the internal organs. Some of the Thai acupressure points and lines used coincide with other traditional forms of reflexology. Carried out with oils, this therapy is seductively relaxing, soothes your hard working feet, whilst promoting improved sleep and clarity of mind.

Photos: Markus Wiegmann
www.mwi-web.de